Major conference realignment has happened over the last few weeks, which means some gymnastics conferences are going to look very different in 2024 and 2025. Oklahoma to the SEC, BYU to the Big 12 and UCLA to the Big 10 were already planned, but this week has seen six of the remaining ten Pac-12 teams announce moves to different conferences after a less-than-impressive media deal for the conference was presented to schools.
For gymnastics, this means Washington will be joining UCLA in the Big 10; and Utah, Arizona and Arizona State will be heading to the Big 12. Stanford, Cal and Oregon State still remain Pac-12 schools as of this writing, but how long that will last and where those schools end up is a big question mark. Oregon State will likely align with the Mountain West schools. Stanford and Cal are less predictable.
Since I am a Utah fan, the new Big 12 is the most important gymnastics question for me.
As of this writing, there are seven teams in the new Big 12: Arizona, Arizona State, BYU, Denver (who compete with the Big 12 as an affiliate member in gymnastics), Iowa State, Utah and West Virginia.
The Pac-12 vs the Big 12
From an objective standpoint, the Pac-12 in its previous form was a better conference than the new Big 12 will be. UCLA and Utah are two of the most historically dominant college gymnastics programs. Four of the six 2021 US Olympic team members are Pac-12 gymnasts. Three of the eight teams at nationals last year were Pac-12 schools. In contrast, Denver and Utah are the only schools in the new Big 12 to have seen the national championship since 2006, and Utah is the only school with a national championship.
Media Coverage
Media coverage is the biggest thing I'm worried about as a Utah fan going to the Big 12. The Pac-12 Network was second behind the SEC as far as TV coverage of meets goes while the Big 12 only saw a handful of televised meets a season on the ESPN networks, and those were all Oklahoma meets against top OOC opponents. Pac-12 meets that weren't on TV were usually streamed for free online by the host school. Big 12 home meets, on the other hand, required a paid subscription to view a stream.
BYU has had very good TV coverage of their home meets with their free BYUtv network, but with the move from independence to the Big 12, they will now be party to the current Big 12 media rights deal, which would put all gymnastics meets streaming on ESPN+, according to BYU's Daily Universe.
We can assume that the same rules will apply when Utah joins the conference. If so, I'm bummed. I liked having meets on TV. I do like the thought that I won't have to pay $70 a month for Fubo to get Pac-12 Networks. $10 is a steal compared to that.
The Teams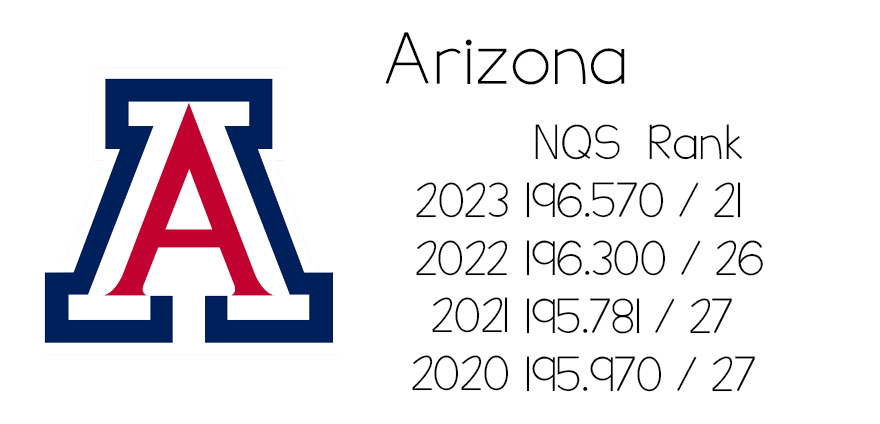 Arizona competed at nationals in 1984, 1987-93, 1996 and 2002, with their highest ranking being fifth in 1992. Since 1998, they have made it to regionals in all but one year.
Based on their performance over the last decade or so, we can anticipate final rankings in the low-to-mid 20s, with the potential for a ranking in the teens.
Arizona has averaged around 1,500 fans at home meets for the last few seasons.
Arizona State was one of the top programs in the early years of college gymnastics, with trips to nationals in 1982-1989; 1991-1994; 1997-1999; 2001; 2003-04; and 2006. They finished second nationally in 1983, 1985, 1986 and 1997.
The Gym Devils have had some ups and downs over the last two decades but have been showing signs of improvement in the last few years, rising into the mid teens and peaking at 9th in 2021. They have the potential to upset the conference favorites on a good night – ASU beat Utah in 2023.
They've average between 2,000 and 2,500 fans at home meets over the last few years.
BYU competed at nationals in 1991-2; 94-96; 98; 2000; and 2005, with their highest ranking being eighth in 1991.
The Cougars have had a few years of success since 2018, but have started to fall back down to being on right on the edge of making regionals with rankings in the 30s. The question is whether they can get back on track once they join the Big 12 or if they'll languish in the 30s.
BYU averaged about 3,100 fans at home meets in the 2023 season, but home attendance has been inconsistent over the last few years, with numbers ranging from under 1,500 to the 3,100 last season.
Denver competed at nationals in 2001; 2007-8; 2017; 2019; and 2023, with a fourth place finish in 2019.
The Pioneers have had a fantastic last few years and should be one of the top teams in the conference. Utah will likely be the favorite to win the conference, but Denver has a very good chance for an upset with regular season scores in 2023 reaching the mid-197s and even hitting a 198 once.
Denver averages around 4,000 fans at home meets.
Iowa State has competed at nationals three times – in 2000, 2005 and 2006, with their best finish coming in 2006 with a sixth place ranking.
The Cyclones have spent the last few years in the mid-20s but fell to 44th last season. They will have a new coach coming in next season so the future is more of an unknown.
Iowa State had an average of 3,500 fans at home meets in 2023.
Utah will be the team to beat in the conference. They've made every national championship and have finished third in each of the last three years. In the Pac-12, they've won a share of every regular season title and have won the conference title six times, including each of the last three years.
The Red Rocks, however, are not infallible on the road. They were upset by both Arizona State and Oregon State in 2023 and by Arizona in 2022. At home, they've only lost one meet in the last decade.
Utah averaged 13,400 fans in 2023, which put them in first place for attendance among all women's sports.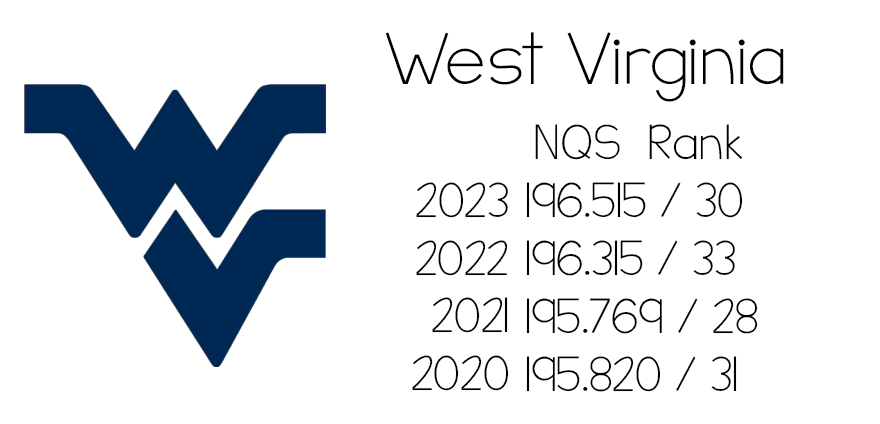 West Virginia finished twelfth in each of their three appearances at nationals, in 1995, 1999 and 2000.
Since then, the Mountaineers have finished somewhere in the 20s and 30s every year, and have made regionals every year except 2014.
They average between 1,000 and 1,500 fans at home meets.